Mini CD Duplication Prices

Includes 80mm m

ini CD (180M capacity) with full color AND full coverage print on disc, case & assembly.

Replication pricing for quantities of 500 units & more.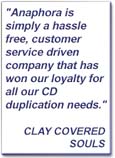 Need a graphic designer to assist you with your project? We've got great designers on staff to assist you with your project!

Posters, one sheets and stickers are valuable resources to help you promote your project. These are just some examples of the printing work we can do for you.

Need help creating your DVD? We can help you with DVD Menu Creation, DVD Authoring, Video Conversions and more.
No hidden fees! No additional film, set-up, screen, or master transfer fees added to our prices. These services are factored into our prices and not added to your order! Shipping costs and sales tax apply if applicable. All prices are for your supplied press-ready artwork. If your artwork is not press-ready and/or requires additional work then additional fees may apply.
Click here if you need guidance with duplication & printing terms. If you do not see a package or quantity option that matches your needs, please email us for a custom price quote.